Tumbled Red Jasper
---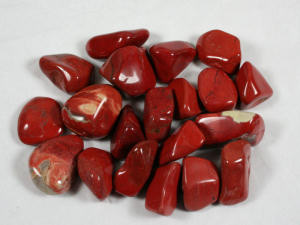 Item:
Tumbled Red Jasper
Price: $1.79 per stone (+S&H)
SKU: CGSM-081TUM-L
Size: Approximately 1"
Summary Of Uses:
Animals: Red jasper should not be used with young animals. It will encourage timid animals to become more territorial.
Children: Red jasper should not be used directly with young children though it can be used on their behalf. It will encourage older children to stand up for themselves, particularly in the face of prejudice or spite from other children or teachers.
Environment: It can be used to empower drought-ridden areas of the world.
Finance & Prosperity: Red jasper will deter bad luck.
Health & Healing: Red jasper aids circulation, stiff joints and limbs or anyone suffering from menstrual or menopausal problems. It is also good for anemia or any sort of blood toxicity.
Home & Work: It will help keep your home cheerful and aid you in staying focused on anything that needs to be done. At work it will help you remain cheerful and focused no matter what comes your way.
Love: Red jasper will encourage an active and fulfillingrelationship. It is a stone of fertility.
Protection: Red jasper offers powerful physical and psychic protection. It will help prevent accidents and injuries. It will send negative energy back to the sender.
Psychic: Use it as a strong psychic shield.
Please note: Crystal properties are listed for information purposes only and are not intended to replace medical treatment. Always consult a physician for proper medical treatment.
Suitable For Use By: Adults and older children.
Recommended Especially For Use By: Warriors.
Q: How do I pay for my crystals?
A: Click on the "Add to Cart" button and you will be taken to our shopping cart page. If you wish to make further purchases please click on the "Back to Shopping" button. When you are ready to checkout, just click on the "Shopping Cart" link which can be found on every page. At checkout a secure online payment can be made using your credit card or PayPal. If you wish to pay by check or money order (USA only) please choose the "Pay by Mail" option. All information you need for sending a payment will be given at that time.