Crystal Properties - Unakite
---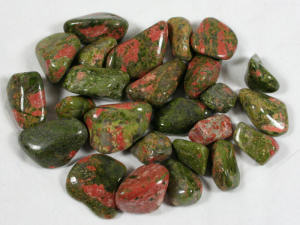 Color:
Moss or olive green with salmon pink or red.
Associations:
Associated Crystals: Moss agate, rhodonite and tree agate.
Candle Color: Pink.
Chakra: Heart.
Element: Fire and water.
Flowers & Plants: Hibiscus and passionflower.
Herbs - Incenses - Oils: Apple blossom, moss, rose and yarrow.
Planet: Mars and Venus.
Zodiac: Scorpio.
Metaphysical Properties & Uses:
Animals: Unakite should be used when you are breeding animals.
Children: Unakite will help children to feel safe enough to talk about their problems.
Environment: It is a good stone for endangered plant species.
Finance & Prosperity: Unakite should be used when taking calculated risks financially such as investing.
Health & Healing: Unakite will help the body's self-healing system both personally and for distance healing. It will help uncover the root of an unknown problem and will help clear any blockages preventing the body from doing its work. It is a stone of balance and is also good for compulsions, obsessions and childhood traumas that have their roots in the past.
Home: It is the stone of partnerships.
Love: Unakite is often given by lovers to each other as a symbol of their union.
Protection: -
Psychic: Unakite is a stone of rebirth and a wish stone.
It Is The Stone Of: Couples.
Ritual: Unakite should be bound with yarrow and used at handfastings.
Work: It will help promote a feeling of partnership between colleagues.
Other: -
Please note: Crystal properties are listed for information purposes only and are not intended to replace medical treatment. Always consult a physician for proper medical treatment.