Crystal Properties - Red Jasper
---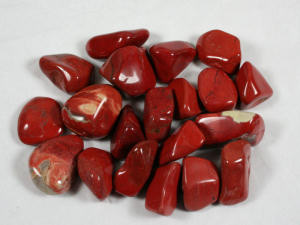 Color:
Brick red to orange.
Associations:
Associated Crystals: Agates, bloodstone and tiger eye.
Candle Color: Red and burgundy.
Chakra: Root.
Element: Fire.
Flowers & Plants: Bright red flowers.
Herbs - Incenses - Oils: Cedar wood, dragon's blood, ginger and mint.
Planet: Mars.
Zodiac: Aries.
Metaphysical Properties & Uses:
Animals: Red jasper should not be used with young animals. It will encourage timid animals to become more territorial.
Children: Red jasper should not be used directly with young children though it can be used on their behalf. It will encourage older children to stand up for themselves, particularly in the face of prejudice or spite from other children or teachers.
Environment: It can be used to empower drought-ridden areas of the world.
Finance & Prosperity: Red jasper will deter bad luck.
Health & Healing: Red jasper aids circulation, stiff joints and limbs or anyone suffering from menstrual or menopausal problems. It is also good for anemia or any sort of blood toxicity.
Home: It will help keep your home cheerful and aid you in staying focused on anything that needs to be done.
Love: -
Protection: Red jasper offers powerful physical and psychic protection. It will help prevent accidents and injuries. It will send negative energy back to the sender.
Psychic: Use it as a strong psychic shield.
It Is The Stone Of: Warriors and some Native North Americans.
Ritual: It is also a fertility charm.
Work: It will help you remain cheerful and focused no matter what comes your way.
Other: -
Please note: Crystal properties are listed for information purposes only and are not intended to replace medical treatment. Always consult a physician for proper medical treatment.